Stuart is a senior strategy and business development professional with considerable experience in the development and implementation of distribution strategies in the life and pensions market. At Equiniti he will be responsible for developing new partnerships for Equiniti with Life and Pensions providers and reinsurers. Stuart joins from Jackson Lowry Consulting where he was managing director. His previous roles include distribution director at OneFamily and director of corporate partnerships at LV=.
Andy, who joins from Prudential Assurance where he was head of marketing services, has extensive experience and excellent knowledge of the UK financial services market place and will be responsible for developing Equiniti's 'at retirement' relationships with financial organisations in the UK and Ireland.
Nigel Pearce, life & pensions director at Equiniti welcomed the appointments as proof of Equiniti's desire to further expand and develop their pension's solutions business, stating "Both Andy and Stuart have a strong record and excellent experience in the life and pensions market space and will be integral to supporting new business development at Equiniti."
ENDS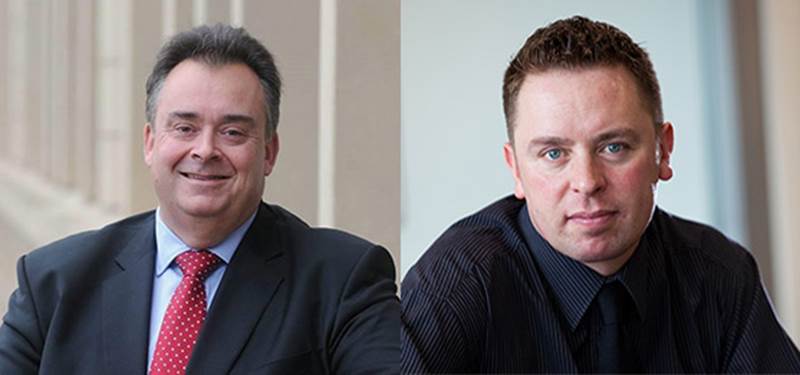 Stuart Tragheim (to the left) as business development director, and Andy Milburn (to the right) as business development manager, to the pension solutions division. 
For more information:
Alban Maginness
Equiniti
Tel: +44 (0) 28 9073 5729
Email: Alban.Maginness@equiniti-ics.com
Notes to Editor:
About Equiniti
Equiniti keeps things running smoothly behind the scenes for some of the best-known brands and public sector organisations in the UK.
We specialise in providing finely-tuned finance and administration services, as well as smart technology solutions, in complex and regulated markets.
Our services are delivered by 3,500 employees across 29 office locations, enabling us to offer solutions that are flexible, adaptable and scalable.
We are acknowledged leaders in the pension services market and in the share registration market, where our clients include around half the FTSE 100.
Our mission is to make the complex simple.
www.equiniti.com