During 2023 Pride Month, we look back at Equinti's (EQ's) equity, diversity and inclusion journey, and ahead to what's next.
Build it on the rock
During 2020/21, EQ went through some significant changes in its ownership, leadership and structure. Change can be unsettling and colleague engagement needed a renewed focus. A strong ED&I strategy was created, centred around building an equitable, diverse and inclusive workplace through education and awareness. To help achieve its vision of becoming the leading global share registrar, EQ needed to attract a diverse workforce which reflects the clients and customers we serve. The strategy focused/focuses on three key areas:
Supporting the whole organisation on and ED&I journey through learning and development

Improving our diverse recruitment practices and how we monitor in order to benchmark

Being aware of country specific needs rather than a one size fits all
Our colleague led networks; Gender, Multicultural, LGBTQ+, Disability & Mental Health had been established for two years, building up a series of yearly events and providing safe spaces for discussion on related topics. But we needed them to do more; to guide the business on ED&I initiatives and support career progression within the business.
The strength in our difference
The ED&I strategy was designed and driven by EQ's People Team, partnering with the established networks, each guided by an executive sponsor. Below is a snapshot of the initiatives and activities that took place in 2020, 2021 and 2022.
Mind's 'Time to Change' employer pledge signed

Disability Confident Commitment signed

Unconscious bias training rolled out (in addition to mandatory ED&I training).

Job levels introduced globally

Over 100 Mental Health First Aiders trained globally

An Inclusivity Charter developed with the networks, with 99% of colleagues having signed it
Working collaboratively with communications, creative and digital teams, our networks launched a webinar series, 'An Audience with...' to support career progression by inviting internal/external guests to speak on topics like impostor syndrome, mental health, gender and Black identity.
Focus groups identified a 'carer gap' amongst women in India and internal campaigns encouraged female returners post maternity.
With guidance from Stonewall, EQ's People Team made all global people policies LGBTQ+ friendly. In Poland, dozens of small towns have declared themselves "LGBT-free zones" but despite this, EQ has continued to actively promote the colleague networks to give LGBTQ+ colleagues access to safe spaces, regardless of global location.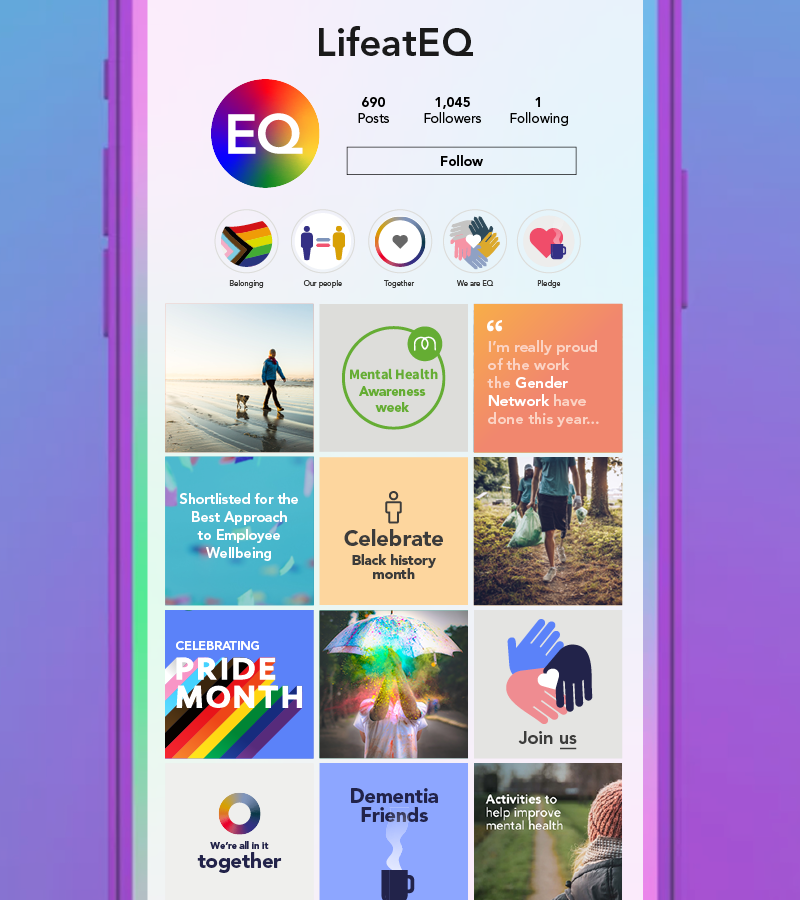 Photos and videos on our Instagram channel LifeatEQ, 'show' rather than 'tell' colleagues/applicants about our inclusive culture. During Black History Month, Multicultural network members shared videos on what they are proud of. For Pride, we featured LGBTQ+ allies and during Mental Health Week, our Mental Health Network hosted a takeover.
The channel showcases the priority that EQ affords to ED&I to current and future employees and helps us to attract and retain diverse talent. The channel feed is embedded in our external careers site, giving applicants real insight into #LifeatEQ.
What's next?
During Pride month, EQ will relaunch a global Inclusivity Charter: seven simple principles that encourage our colleagues to consider from the perspective of others, to value difference and advocate for change.  Shaped by members of EQ's diversity and inclusion networks, it shows that we don't have to leave parts of our identity behind when we come to work.
I accept that my worldview is shaped by my own experiences and that the same is true of others; we are all unique.
I will seek to understand before making an assumption about how another person may be thinking, feeling or acting (learn about the challenges and prejudices faced by others).
I will show respectful curiosity when finding out about someone else's experiences (be brave and ask rather than avoid a difficult subject, think carefully about what might come across as intrusive).
I will look for the value in other's differences and the strength this brings to our organisation.
I will speak out and hold other colleagues to account where I hear or see negative or disrespectful responses to others based on their personal characteristics.
I will advocate for others who are in under-represented groups within EQ (publicly credit and amplify their ideas and views, use my own influence to open doors for others).
I will strive to thoughtfully challenge the status quo when it comes to breaking down inequalities.
Over 99% of colleagues voluntarily sign-up on joining EQ, and as part of this year's Pride activity, the Charter will become an annual declaration to keep inclusion front of mind.
EQ is also upping its focus on measurement and benchmarking. A new supplier agreement now means 3rd party agencies must demonstrate a track record of recruiting diverse candidates and a new HR system (Workday) is giving leadership a clearer picture of what its workforce looks like.
Work is underway to ensure diverse candidate pools are presented for every role, such as deeper ongoing analysis and the launch of a new careers site which reflects and encourages diversity in attracting new talent. Specialist agencies and job boards are helping EQ to reach underrepresented groups, such as American veterans, people with disabilities and the transgender community in India, enabling numerous new diverse hires.
Head of Reward, Alex Lawrie sees a direct link between a structured, data-based approach and seeing improvement:
"The introduction of Job Levels and pay ranges has created a foundation for equity and fairness across the business.  These actions have helped reduce EQ's Gender pay gap for 3 years in succession (now better than the financial services national average).  We are also beginning to analyse our Ethnicity Pay Gap as data becomes available (new starters now enter this data as a matter of course) and we will begin to report on this as our data becomes more complete."
Data is king and employees are beginning to contribute to the picture too. A few months ago, EQ switched on 'Skillscloud', new functionality which allows its colleagues to populate a wealth of information about their existing skills, education and future goals. This adds to the rich tapestry of data which is helping to fuel internal progression for all colleagues.
EQ is also opting to keep guidance on hybrid working, introduced during Covid, as a permanent fixture. CPO, Andrew said:
"Hybrid working supports inclusion by recognising that treating everyone the same is not treating people equally. Our emphasis is on guidance and flexibility and not on mandatory requirements, allowing people to do their best work, their way."
EQ's colleague equity, diversity and inclusion networks will relaunch during this year's Pride month, under a new structure: Wellbeing (physical and mental health), Inclusion (sexual and gender identity, and disability) and Multicultural. They'll each recruit a Business Ambassador to lead their efforts, who'll be given time away from their day job to focus on driving the network forward. They'll continue to get support from their Executive Sponsor, be accountable at quarterly forums and plans and progress will be discussed at Board level. The changes will give the once fairly informal colleague networks a real seat at the table and new scope to make meaningful change.
Sam Taylor-Howell, Engagement Partner reflects:
"We started out with very distinct networks set around clearly defined protected characteristics, but along the way we've appreciated how intersectional many issues are. This has led us to revaluate how our networks are structured and how in some cases they can work better in collaboration, whilst protecting the safe spaces we've traditionally provided."
Another major cultural shift is a new emphasis on Employee Voice at EQ. A new monthly feedback tool is letting colleagues share how they're feeling on a huge range of topics every few weeks. It opens up an anonymous digital conversation with their manager so that any issues can be raised and explored on a deeper level. This is putting engagement front and centre and creating a more open, inclusive culture where employees can be heard more than ever before.
Andrew concluded:
"It's fantastic to see current and former colleagues rating us 4/5 on Glassdoor in their diversity and inclusion metrics. We equally want the hard metrics to back this up which is why we're keen to explore new ways to bring more diverse talent into and through the business. We genuinely believe in the strength that's found in our differences, the tremendous benefits of diversity of thought and the power found in teams where emotional safety exists. For EQ, equity, diversity and inclusion isn't just a nice to have, it's a business imperative."