SETTING THE SCENE:
About M&S and its employee share schemes
Marks and Spencer Group plc  (M&S) barely needs an introduction. One of the UK's leading and most beloved retailers, it has over 1,500 stores across the world. Founded in 1884, a strategy of digital transformation has been key in recent times. So that every single one of its 78,000 employees has the opportunity to become a shareholder, M&S offers an all-employee Sharesave Scheme and a Share Incentive Plan (SIP).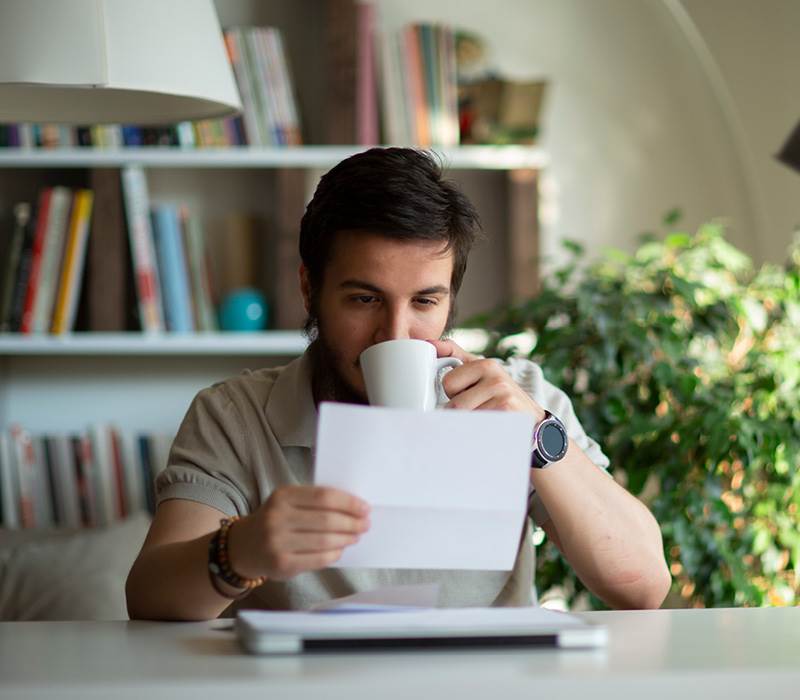 SITUATION:
Thanking and transforming
During the COVID-19 pandemic, the M&S board was intent on continuing to retain, motivate and engage colleagues in the success of the business through share ownership.
In fact, with everyone going through such uncertainty, it was even more important than ever to strengthen its culture and support colleagues. To demonstrate their commitment to their team, they doubled the monthly savings limit from £250 to £500.
Up until now, during a Sharesave launch, M&S would send out around 80,000 brochures and invitation letters, 2,000 packs of three posters and 2,500 tent cards. Logistically, printing and posting out items to stores and offices was out of the question at this time. But regardless, if the Sharesave invitation was to fit into M&S's strategic thinking around going digital, things had to change.
M&S could simply have replaced the printed communications with like-for-like digital equivalents. However, the team wanted to go further by understanding the whole user journey, using this shift as an opportunity to improve the success of the scheme. Emma Penn is Executive Pay Governance Manager, Corporate Governance at M&S: "Our focus for the 2020 invitation was to improve colleague engagement through effective use of digital capabilities."
As a result, the project objectives were three-fold, to work with EQ to:
Reward hardworking colleagues for their service during COVID-19
Reduce or remove printing and posting
Drive greater digital engagement
SOLUTION:
Strategic digital shift (assisted by Percy Pig)
Emma Penn from M&S explains how we collaborated to work out the best approach: "The M&S team and EQ's share plans team worked closely together to look at new and creative ways to meet our objectives and bring our communication campaign to life." Together, we designed a programme of communications for each of three groups:
Office-based Because we know they regularly use emails, this group received communications by email only.
Non office-based M&S colleagues who had previously engaged with Sharesave through a digital channel As we knew they had a preference for digital, this group was also only sent email-based communications.
Everyone else (including those on leave of absence) As we could not be sure of their digital preference or that we had their correct email address, these employees were sent a printed invitation card to their home address. The card prompted people to check their preferred email address on M&S's People System so that they could be contacted digitally in the future.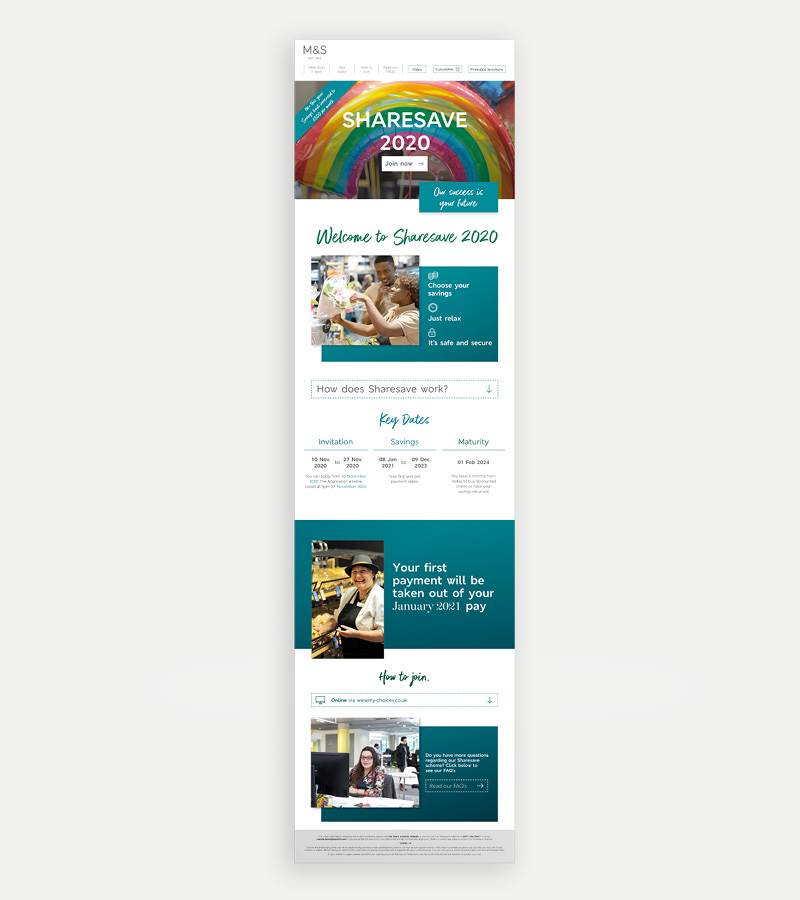 We developed a digital communications campaign aimed at all three audiences which was made up of:
Creative videos Featuring the famous Percy Pig, the team produced short, creative videos to launch Sharesave. Designed to create discussion, drive engagement, and inform, they focused on promoting the increased monthly savings limit.
An interactive microsite Rather than the usual printed brochure, a microsite was created which was linked to in emails and via a QR code printed on the invitation card and poster.
A 'teaser' email An email went out to pique interest ahead of the official launch.
Bitesize educational videos These covered subjects such as 'What is Sharesave?', 'Budgeting for small savers' and 'Understanding share price movement and its impact on Sharesave'.
OUTCOME:
Higher engagement than ever before
M&S beat all of its objectives. Despite this being a time of real uncertainty, take up and savings levels increased, suggesting extraordinary employee engagement. At the same time, print production dropped and digital engagement rose.
Objective 3: Drive greater digital engagement
There were 7x as many visitors to the microsite on Day 1 compared to 2019.
5x more people visited the microsite over the course of the campaign than in the previous year.
88% of colleagues applied online – 24% more than in 2019.
 NEXT:
Keeping the digital momentum going
M&S's next Sharesave launch will be even more digital in focus. As everyone's up-to-date email addresses should now be recorded, all invitations will be by email rather than printed. With nearly 9 out of 10 employees using the microsite rather than the options of SMS and IVR, M&S's next Sharesave launch will streamline the application channels. IVR will be used as contingency only to cater for vulnerable employees.
With such positive movement in 2020 towards going entirely digital, the belief is that these changes will not affect take up rates but they will send an important message about the increasingly digital culture of this iconic brand.
Talk to us today
We'd love to talk to you about Sharesave, the switch to digital communications and to discuss your ideas or any barriers you're facing.